Eagle Trailer Company has over 30 years of experience in the field of trailer manufacturing enables us to find a solution for almost every request of our clients. Thus, a vast number of innovative designs and solutions have been developed since the business has been founded.
All of our production is completed in-house, which allows us to provide fast and high-quality solutions for specific requests of our clients and more importantly allows the client to inspect while their order is in production. We strive for AWS 14.3 welding standards and NACE WJ-3 preparation and corrosion prevention standards for our products. We use Lincoln Electric SuperArc L-56 wire with an Argon/CO2 Cover Gas and DuPont Epoxy Primer and DuPont Polyurethane Paint.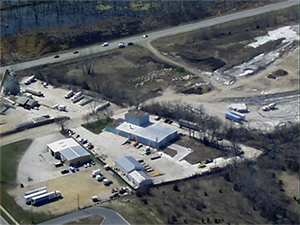 Fields of work:
Design and development department
In-house AutoCAD/Inventor capabilities
Out sourced Laser and Fiber Plasma parts production
Small and large trailer production
Commercial contract fulfillment- typically for rental and energy companies
In plant and field trailer repair capabilities
Small and large volume parts and steel sales
Training and customer support
Steel and aluminum welding repair
Eagle Trailer Company designs trailers with multiple things in mind. We consider customer use and expectations, take into account engineering requirements and arm the assemblers with quality control tools like "Design of experiments" techniques and SPC demerit charts. We strive to design and build trailers that are both durable and economical. The use of "Division of Tasks" engineering is used extensively. The tasks of a part are divided and an optimized solution is found for each. Our design and technical staff have gained great experience from the thousands of repairs that we have made to our trailers as well as many other manufacturers' trailers over the years. This exposure to a wide variety of design and assemblies, both successful and otherwise, has created a wealth of practical knowledge that is applied to the improvement of the design and construction of Eagle trailers.
utility trailers for sale
channel iron sales
truck trailer service
enclosed cargo trailer
parts for trailers
trailer service
utility flatbed trailer
cargo hauler trailers for sale
semi trailer parts
heavy duty trailer parts
flatbed trailer parts and accessories
Proudly Manufacturing Quality Trailers For Over 25 Years
Eagle Trailer Co. was founded in 1983 and began manufacturing operations.  The company was incorporated in 1987.  We are pleased to have manufactured quality trailers for over 25 years.
Eagle Trailer Co. is a leader in innovative design and manufacture of bumper pull, gooseneck and fifth wheel trailers with capacities ranging from 2000# to 20,000#.
Our hours of operation are Monday - Friday, 8am-5pm, Saturday by appointment. Contact Eagle Trailer Company for assistance.